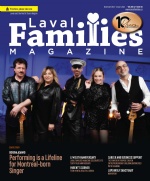 In The Latest Issue:
Latest Issue:
Welcoming 2024
Performing is a lifeline...
Laval Families Magazine ...
Performing is a lifeline for Montreal-born singer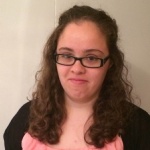 BY:
Samantha Mileto
Issue 55
Borina Adamo was born in Montreal, and moved to Philadelphia when she was three. It didn't take long after her move for music to change her life. For the first six months in her new city, she lived with her aunt and uncle before her parents moved into their own place. Her uncle was an opera buff and her cousin would later become an opera singer. Her father played the piano and another uncle played the accordion. Because of her family, Adamo says, music was embedded in her from day one.
"We were always singing in the house," recounted Adamo. "We were very musical that way. They even used to take me to the neighbours to sing.In addition to singing for her neighbours, she sang in the church choir in high school, and joined her own band as lead singer when she was 16. Her love her music continued once she moved back to Montreal. She met her husband, Joe, at a family gathering here in Montreal and moved back permanently at 20 when they got married."I always say this, but my first love was always music, because it's what I had since I was a child," she added. Once settled, Adamo went to hairdressing school. She went on to singing in a few wedding bands called Fantasia, Angeli Blue and Level One. For 17 years, she was one of the lead singers of The Becket Players in the West Island, an organization that puts on various shows and musicals each year to raise money to support different children's charities in and around Montreal.When Adamo started a family, she passed on her love for music to her three children, Joey, Sonia and Michael. They all attended music concentration schools, and all played various instruments, from the bass to the saxophone to the guitar and keyboard. This is where the comparison to The Partridge Family comes from."The house was always filled with music," said Adamo. "My husband is not musical at all, but we needed somebody to listen to us. So, he was the audience. I remember once, I needed a new car because my van had broken down and somebody told me, 'why don't you buy a yellow bus?', in reference to The Partridge Family. Music was a big part of our family."Just before the pandemic hit, Adamo started a band called Electric Street Band (ESB). There are five members in the band: She and Teresa Estrada, whom she met while playing for the The Becket Players, share singing duties with Mario Leonhard, Serge St. Arnold is on guitar and Raphaél Zinno is their bassplayer. According to Adamo, they call themselves a cover band, and their favourite artists to cover during their performances include Aretha Franklin, Whitney Houston, Annie Lenox, Tina Turner, Aerosmith and Journey."We play homage to classic motown, disco, classic rock and pop," she said. "It's a combination for all that music mixed together. Something for everybody, as I always say."The band can be heard playing in bars, restaurants, clubs, and they even perform in private events. They try to book up to two gigs a month. For now though, Adamo is just happy to be getting work, as COVID had an huge impact on the band, just like so many performers."We were just started to play in restaurants," she said. "Then March 13 [2020] hit and everything stopped. When the music scene got back on, it was hard to get in places because people didn't know who we were. So, to get people to give us a chance [was difficult, but] now that we have those chances, we're getting work."Adamo added that her favourite part of being a singer is looking for the one person in the crowd who isn't paying attention to the band's performance or doesn't seem interested in what they are playing, and using the band's energy to change their mind."I enjoy the audience so much, when they dance and we can join them on the dance floor," she said. "I just love the party. It's a gift to be able to sing and I think it would be a shame to not use that gift. It gives pleasure to people and I enjoy it."Adamo was hit with a curve ball in her life when she was diagnosed with Multiple Sclerosis nine years ago. But for her, it just meant that singing, and her family, became an even more important part of her life. She doesn't allow her diagnosis to define who she is."I try to be positive," she said. "I am very grateful that there's medication, that can help relieve the pain so I cansing. I want to concentrate on being joyful when I sing, and enjoying music, my bandmates, the crowd and the fun.""There's too much crap in the world," she continued. "It's nice on the weekend, when you're at a bar somewhere and you're just happy. People just want to forget about that week. It's that part of the creativeness that you need to touch to feel whole again. I don't concentrate on the MS."Adamo also uses her positive outlook and pours into her day job at Laval Senior High School, where she works as a hall supervisor. As an aid to the students and staff during school hours, Adamo loves spending her days with the kids, and sees herself as an adult they could talk too about anything that might be on their mind. ​"My favourite part of my job is connecting with the students, being there for them for whatever they need," she said. [I love] listening to their daily successes, consoling their heartaches [and] their dreams for the future. They keep me young."In the end, music is in Adamo's blood— and she plans to keep going as far as the school bus will take her."[Performing is] awesome, because it something I want to do to have fun, for the rest of my life, for as long as I can. Other than my family, that's all I want. And a little bit of money doesn't hurt. Some vacations would be nice."
Contact information:
Electric Street Band
Borina Adamo
514-240-2076
Boejoe@videotron.ca