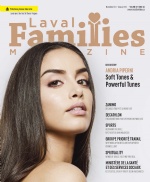 In The Latest Issue:
Latest Issue:
Continued Efforts & New ...
Andria Piperni: Soft Ton...
Becoming The Bull: UFC F...
A Story of Courage, Love & Persistance: Matthew Schreindorfer and Katia Luciani
BY:
Lori Leonard
Issue 15
Matthew Schreindorfer and Katia Luciani first met when they were 14 years old. They attended the same private school, Regina Assumpta located in Ahuntsic.

They ended up being in the same grade 8 class at which time they were only acquaintances. Then one day, they had to work on a school project together. For some reason, maybe a romantic one, the project ended up being lengthier than originally planned. Love began to bloom… and they started officially dating on November 5, 2005.

Katia was attracted to Matthew immediately. He was funny, had smarts and lots of friends. Matthew, on the other hand, was mesmerized with Katia because of her natural beauty, her intellect and well, he just felt comfortable in her presence.

In 2011, Matthew and Katia went looking at homes together "just for fun". However, they ended up buying a home together sooner than they thought. They got engaged in December as Matthew proposed to Katia in front of their new home in Fabreville. It was a rather unique proposal, however. A lady who was driving in her car nearby got stuck on ice near their new home, so off went Matt to the rescue. He helped to push the car out, but by the time he was finished with this task, he was sweating profusely and was very tired. Despite this, he proposed to Katia in front of their new home, as he had originally planned. Their parents were in on the whole "secret proposal". With a bottle of champagne in hand, their parents awaited them to arrive to share the happy moment together. They were officially engaged in December 2012 and moved in together in July 2013. Their memorable wedding with 240 guests took place on June 7, 2014 with all of their loved ones and friends present at Eglise Ste. Thérèse d'Avila in Ste. Thérèse. The world was their oyster with their future full of promise and love.

They honeymooned in sunny Grenada which they thoroughly enjoyed. They returned home on June 19th. A few days later, Matthew did not feel well and went to a local clinic. He thought that he had probably caught a virus while vacationing. Then, he got a fever and decided to have blood tests done. The physician diagnosed (to 98<>percentage<> certainty) Matthew with mononucleosis. At the beginning of August, Matthew visited a hematologist. One week later, a gastroenterologist checked his blood work and requested a biopsy of his liver. Matt's parents were puzzled and wanted results. It was a real conundrum. What was wrong with their young, healthy son? Results came in by phone and they were not good; Matt was diagnosed with ALL (acute lymphoblastic leukemia). This disease produces immature white blood cells that replace normal white blood cells, red blood cells and platelets. Matt's symptoms worsened. He was fatigued and feverish, had night sweats and suffered with a painful, inflamed liver and spleen.

With the diagnosis of ALL, Matt and Katia's lives were turned upside down, as were those of their families and friends. They were completely confused. They were newlyweds who were supposed to be young, healthy and happy. What had transpired?

On August 9, oncologists started a chemo program. Matt was hospitalized at Cité de la Santé Hospital in Laval until September. Another bone marrow test was completed after the chemo treatment and Matt did not go into remission. This left two very serious options; a two year protocol of chemo and pills or a first induction, followed by a bone marrow transplant. A second strong chemo treatment was administered. Unfortunately, it failed. If a second induction worked, then Matt could have a bone marrow transplant. It was very difficult for Matt and Katia to explain all the details to their friends. However, they were truly determined to love and support each other.

It was overwhelming. Nonetheless, this didn't discourage them from being positive and keeping busy. As a result, they started a fundraising program called "Light the Night". Within a couple of months, they raised $46,000. As time went by, more and more people learned about Matt's plight and soon, people were willing to help this young couple. They also embarked on another fundraiser called the "Help Save Matthew" campaign. People were truly touched; friends spread the word around and before long, help was on its way. While enduring those dark and tough times, they kept lighthearted by making each other laugh and giggle. Their constant and loving canine companion Mia, a six-year-old golden doodle was always by their side. She's an important member of their family, too.

To their surprise, an anonymous benefactor donated $7,000. Friends of the family reached out and contacted the NHL. Trying to reach remission in Laval at Cite de la Santé de Laval, Matt underwent a gruelling 4-week 2nd chemo treatment which unfortunately, failed followed by a 4-week 3rd chemo treatment, which also failed.

Katia left her marketing position in August 2014 to support and stay by Matt's side. She dutifully recorded test and treatment results, doctor appointment dates, and even organized and manned fundraising plans. Matt was then required to stay 28 days at Maisonneuve-Rosemont Hospital just prior to Christmas for a clinical trial study. He was admitted on December 22nd and after the 26th, he was no longer able to have any visitors. Matt was depressed. They learned that once again this treatment failed and felt there was nothing left to do. Each Friday, they received more bad news. They began to call them Bad News Fridays. Matt had received a call that the cancer had advanced. Matt was not totally surprised, as he was experiencing night sweats and other uncomfortable symptoms.

Matt and Katia later learned about an oncologist who was conducting a study called CART 19 at the Memorial Sloan Kettering Cancer Center in New York. This time luck was on their side; Matt was eligible to be part of this study. The bad news; the study would cost anywhere between $600,000 and $800,000 USD. How would they be able to raise this amount of money? It was like climbing Mount Everest! They needed a deposit of $675,000 USD for Matt to be part of the study. Suddenly, something wonderful happened; friends, relatives and strangers alike donated. Donations poured in!

Unfortunately, prior to his departure for New York, Matt experienced yet another setback. He was given the horrifying news that he was at the end of the line and that he needed to go into to palliative care. Fortunately, Matt's health was stabilized and although he was a little apprehensive and scared, off he went to New York.

On February 5th, Matt and Katia launched a YOUCARING campaign for Matthew. Within 48 hours, an unbelievable amount of $200,000 was raised. Then the amount went up to $500,000. Strangers alike, friends of friends, extended family members all wanted to help. Children and adults were hosting events of different kinds to help raise funds. In fact, while Matt and Katia were in New York, more than 18 events were held. Checks came in the mail, letters poured in, and even well-wishes notes from total strangers arrived. There were other notes from people who shared their own experiences. A kind friend of the family even offered their condo for Matt and Katia to stay in while Matt would endure his treatments in New York City, and the funds required were finally raised!

After Matthew went through the CART 19 study, he had a fever of 105 degrees for nine days and was in ICU for 11 days. He had to be intubated; he experienced two seizures and suffered from memory loss. Physicians administered Decadron, hoping that Matt would return to normal. When he awoke, he thought that he was in Laval and that someone was playing a mean joke on him. Slowly, he started to regain his strength and his memory.

On April 8, 2015, Matt had a biopsy. Finally, great news! He was in remission! This was the best news ever. He stayed in the center in New York for another 10 days and finally returned home on April 18th. Home sweet home, or so he thought! He needed to endure one last challenge; after Matt was told to be in remission, he was still required to complete a bone marrow transplant back at Maisonneuve-Rosemont Hospital in Montreal and needed to be hospitalized for another five weeks.

Finally, Matt and Katia returned home. Their beloved dog Mia returned as well (she had to stay with Katia's parents while he was hospitalized). Matt needed to stay in quarantine at home for 100 days.

I asked Matt and Katia if they had any words of wisdom to pass onto others. Their words of wisdom; "Use humor, love, be positive and always help and encourage others."

Thanks to Katia, family members, friends, and strangers, Matthew has finally turned the corner. The only way to go now is forward. Each and every day he is gaining more strength.

With all of the bad news that we hear on the TV or radio, this story instills our faith in human nature, love, friendship and in the total kindness of strangers. Thank you to all of you kind people! Most of all, thank you to Matthew and Katia for showing us the strength of positivity, determination and humanity.