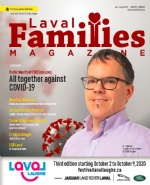 In The Latest Issue:
Latest Issue:
Four Little Words Have N...
An Unprecedented Public ...
Because a Little Laughte...
Baked with Tender, Loving Care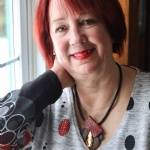 BY:
Lori Leonard
Issue 24
Baking has been a long-standing Italian family tradition for Joey Musumeci and the entire family behind Pâtisserie St-Martin in Duvernay, Laval. In fact, Pâtisserie St-Martin will celebrate its 30th anniversary in business on November 16th, 2018.

A Taste of Home
The patriarch of the family, Antonio Musumeci, was born in Sicily and arrived in Montreal in 1950. In 1956, he built and opened Aurora Bakery on Papineau Street. Right from the start, Antonio wanted to bring his authentic, traditional Italian recipes to life for others to enjoy. He was one of the first Italian bakers in Montreal and specialized in Italian bread, cannolis, amarettis, pizza and sfogliatelle.

Antonio and his wife Caterina, also from Sicily, had a daughter, Mary, and two sons Joey and Salvatore (Sam). From the time they were very young, the children learned the "tricks of the trade" from their father: how he baked his unique home-made Italian recipes. Joey took a special interest in baking and decided to open his first bakery/pastry shop in Montreal North in 1981, Pâtisserie Léger. When brother Sam took over the operation of Pâtisserie Léger, Joey then saw the growth opportunity in Laval and opened Pâtisserie St-Martin in 1988. Joey knew that with his advanced baking skills, coupled with his people skills, personalized customer service and strong work ethic, the model he had in mind would be a perfect recipe for success in Laval.

Shortly after the opening of the bakery in Laval, premium quality imported items such as specialty olive oils and balsamic vinegars were offered. A fabulous array of pastries, home-made pasta dishes, pizzas and traditional sauces became available as well. Customized catering for events, parties and weddings became very popular. It's also a popular spot for a Bistro style lunch with the outdoor terrace.

Some Things Change, Others Stay the Same
Eventually, Joey opened three other bakeries with associates. Joey decided to sell his shares of the three additional locations to his associates and he wishes them continued success and well-being.

"We decided to get back to our true, original roots and foundation, where it all started, at 2495 Boulevard St-Martin in Laval," says Joey. "The future looks bright and everything that we have learned over the years and all of the customers we have served since 1988 make us extremely proud. We believe in exceptional, personalized customer service in all of our departments."

What makes their Italian pizza so delicious? Papa (Antonio), now 87 years old, uses only the tastiest, freshest Italian tomatoes and bakes his pizza with love. Canolis are popular at the bakery too. Mama (Caterina) has passed down her secret recipe for Arancini (rice balls with meat and tomato sauce and mozzarella cheese), and this recipe is still used by her children today.

Customers also appreciate picking up delicious ready-made foods such as cannelloni, lasagna, veal parmigiana and tortellini with rosée sauce. The specialty cakes and pastries are so flavorful because Joey is meticulous when choosing only the best ingredients to create their recipes. The best-selling cake is their famous "Fruitta di Bosco" (wild berry cake). A variety of delicious home-made quiches, tourtières and chicken pies fly off the shelves.

Mary's favourite dessert is zeppole, an Italian dessert consisting of fried dough with a filling of ricotta, custard or Nutella. This dessert is only available from February to April and is the traditional Italian dessert to commemorate St. Joseph's Day on March 19th.

It's not uncommon for Mary to be asked how she manages to stay so thin working in the bakery. "Good genes help me and my brothers stay thin," she laughs.

More Than Just a Business
The success of the bakery is due not only to their delicious baked goodies, but because they truly care for others. They are renowned in the community for being very generous, and always there for others, even knowing most customers by name. "We treat every single customer as a friend," says Mary. It's this personalized service that makes them unique. She also confesses that most customers refer to her as "Mary St-Martin", which she finds quite amusing.

Since the bakery only offers freshly baked goods the same day, every evening at 9:00 p.m. when the bakery closes, leftovers from the day are donated to non-profit organizations, church groups, etc. Each night a representative from a different organization arrives at 9:00 p.m. to pick up the goodies.

Mary often meets with a bride's mother, or a family member of a deceased person and helps them with their catering needs. She is compassionate when need be and knows how to make these customers feel at ease, whether it's catering for 10 or 500 people. "These customers are so appreciative of my help," says Mary.

Community Implication
Other ways that the Musumeci family help the community are through the "Freedom Walk", which Mary founded two years ago. This fundraising event helps mothers and children who have experienced conjugal violence. They also make a valuable contribution to the Young Authors Contest organized by Laval Families Magazine. Basically, they help wherever and whenever they can.

The bakery has come a long way in almost 30 years. They now have 60 employees.
Joey, Sam and Mary absolutely love their jobs. "On behalf of myself and my brothers, work is so much easier when you love what you do," says Mary.

What's next for the bakery's continued legacy? "You never know, maybe my children, the third generation, will be part of Pâtisserie St-Martin and bring it to the next level by operating the bakery one day," muses Joey.

Visit the bakery at 2495 boul. St. Martin Est, Duvernay, call 450-629-6202 or visit the website at www.patisseriestmartin.com.